Improve flood prevention and coping systems in Ghana
PARADeS Project
Ghana is one of the countries in West Africa most affected by flooding. In addition to the annual flooding events, Ghana is subject to many flood-induced cascade effects, resulting in the collapse of critical infrastructure.The effectiveness of risk management is deficient due to the existing risk management infrastructure and governance structures.
The HKC is part of the cooperative project "Participatory assessment of flood disaster prevention and development of an adapted coping system in Ghana - PARADeS". The project is lead by the Department of Geography, University of Bonn.
The PARADeS project aims to contribute towards enhancing Ghana's flood disaster risk reduction and management strategy by investigating existing flood risk and disaster management to reduce the risk and increase the security of the society. Within the project scope of the HKC, the floodlabel concept is transferred and adapted to these conditions.
PARADeS is financially supported by the Federal Ministry of Education and Research (BMBF), under the program Research for Civil Security".

Project partners
Germany
Department of Geography, Research group Eco-Hydrology and Water Resource Management, University of Bonn
Research group Environmental Policy, University of Freiburg
Research group Flood Risk Management, University of applied sciences Magdeburg-Stendal
HochwasserKompetenzCentrum e.V. (HKC)
Ghana
West African Science Service Center on Climate Change and Adapted Land Use (WASCAL)
Water Resources Commission (WRC)
National Disaster Management Organisation (NADMO)
In cooperation with
MIASA Centre for Advanced Studies (CAS), University of Ghana
Federal Office of Civil Protection and Disaster Assistance (BBK) Download FLOODLABEL Ghana Flyer
Case studies areas
Accra - pluvial and coastal floods
Kumasi - pluvial and fluvial floods
Volta river basin - fluvial floods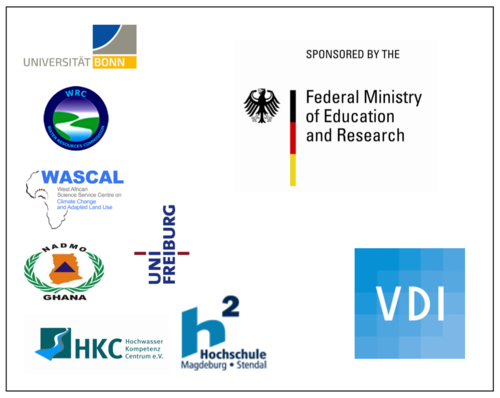 More information:
https://www.geographie.uni-bonn.de/parades/de
Further program information can be found under the following links:
https://www.sifo.de/..parades_node.html