A unique network combines theory and practice in flood protection
Time and again in recent years, the media have reported on catastrophic flooding events with some dramatic images, for example such as the Oder and Elbe floods. Many other events worldwide also illustrate that there has been a significant increase in risk from a change in rainfall patterns and the resulting runoff characteristics in rivers as a result of climate change and local influences.
In a recent study, the German Institute for Economic Research (DIW) found that the results of extreme climate events will cause significant economic damage as well as increased adaptation and energy costs. With no counter-strategies, the costs would then amount to almost 3,000 billion Euro by 2100. These total costs are distributed across various areas affected by the climate, of which the effects on water management form a significant proportion. In flood protection, maintaining the status quo is therefore not an option. Development must be actively pursued and adaptation strategies must be developed.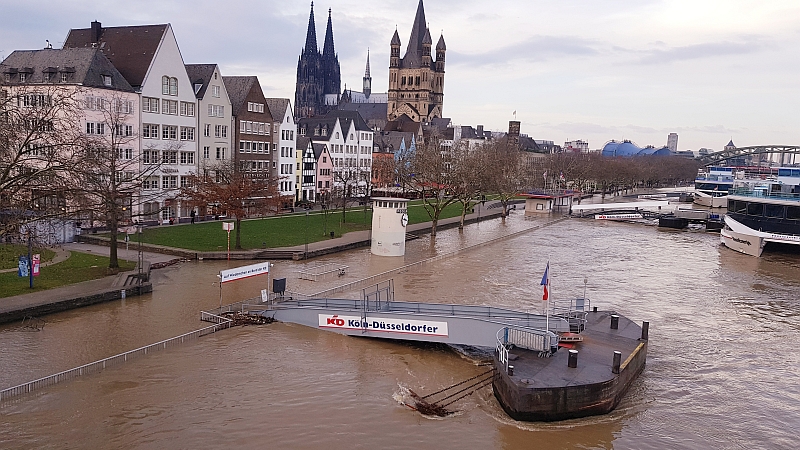 The Cologne flood of 1993 caused great damage and such damage must be expected with increasing frequency in the future.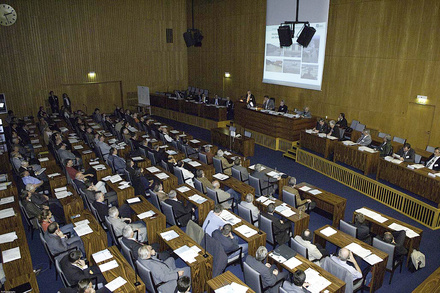 Meeting of HKC in Cologne Council Chamber
Great efforts need to be made with respect to precautions and risk reduction in flood protection: adaptation strategies must be developed and established in industry and in the population. The precautions include e.g. risk maps, drafting of structural safeguards, property consulting and the introduction of comprehensive flood management systems. Furthermore, the tasks in the areas of risk assessment, provision and management have grown as a result of the new flood legislation (omnibus act on preventive flood protection, state water law, water framework directive, EU flood directive etc.).
Previous accomplishments demonstrate that the development of updated concepts and adaptation strategies can happen only with the most comprehensive possible knowledge of national and European developments and measures. In future, the know-how existing in the catchment area of the Rhine must be linked as effectively as possible with the knowledge of others, integrate those affected and be developed further. To do this and to tap into new findings including for practical use in the local regions/cities, a flood competence centre (HochwasserKompetenzCentrum) was established in Cologne in September 2007 as a charitable registered society.
HochwasserKompetenzCentrum (HKC) brings together science and practice in the area of holistic flood protection. It involves all groups affected and interested and promotes the development, holding, provision and transfer of expertise.
Key tasks are the transfer of information and the preparation, development and implementation of projects, research schemes and studies on sustainable, economic and practice-oriented handling of the subject of flooding.
HKC will contribute to provide targeted impetus for development above and beyond the status quo in order to produce economically sensible and practically oriented solution proposals including in the light of risk assessments and future prospects.
In new co-operations and partnerships the network will link together research institutions, companies and service providers, insurers, citizens, organisations, operators, administration and ministries, and all other parties interested in flood protection, in order to form the basis for a mutual transfer of knowledge and increased competence for all stakeholders. For HKC, this creates the essential requirements in order to have the necessary competence to be able to enter into dialogue with those affected by flooding. This affects the task areas of:
task areas
· Interdependencies between environment, climate and flooding
· Prevention and avoidance of flooding and inundation
· Flood forecasting, risk identification and assessment
· Technical and structural flood protection
· Measures to raise awareness in the population
· Flood management and flood aftercare
· Fundamental questions on risk safeguarding
· Structural and behavioural precautions
focus areas
· Presentation of research results and showcase projects
· Initiation and support for studies and projects
· Organisation of events and symposia for the transfer of know-how
· Promotion of educational and training work in flood protection
· Co-operation with similar institutions within Germany and abroad
· Formation of a European network
Work areas of the council
· Raising awareness
· Citizens' advice
· Self/risk-provision
· Disaster prevention